well, that's just what a cultist would say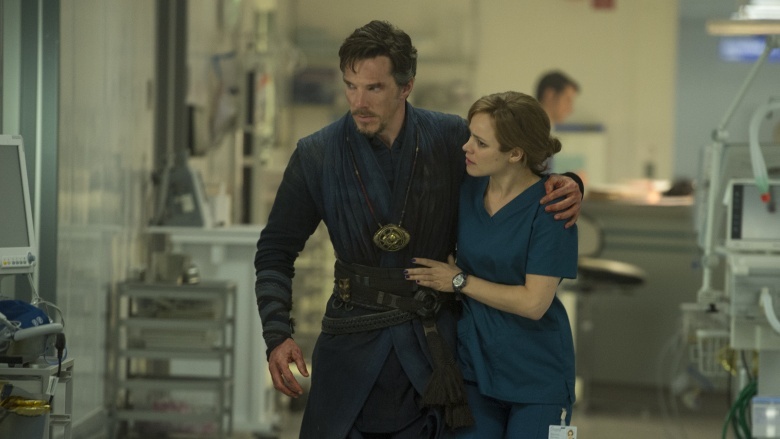 Doctor Strange (2016),
Stephen Strange (Benedict Cumberbatch)
and Christine Palmer (Rachel McAdams)
Christine: "So you joined a cult."
Stephen: "No, I didn't. Not exactly. I mean, they did teach me to tap into powers that I never even knew existed.
Christine: "Yeah, that sounds like a cult."
Stephen: "It's not a cult."
Christine: "Well, that's just what a cultist would say."
Editor's note: See a full discussion and definition of cultism here.
In my youth, after high school graduation, it got back to me that some of my classmates, knowing of my interest in things metaphysical and religious, were reporting that I had joined a cult; even, that I had shaved my head. This really burned me. Today, 50 years later, I smile at this memory and think of a comic routine by Michael J. Fox who, when confronted with two accusations, would vehemently deny one but remain silent about the other. For me, it would have been, "Ha! How ridiculous! I have not shaved my head!"
And regarding the charge of my joining a cult, along with Doctor Strange, I will brush this indictment aside with, "Not exactly." Technically, I had not "joined a cult" but, rather, had transferred membership from a childhood church to one of my own choosing. Thus, it was very unfair to say that I had "joined a cult."
Well, as Christine would point out, this is just what a cultist would say.
But here's the problem: Nobody likes to be called a cult member. Most times, when this is done, it's just a form of name-calling, of bigotry, of putting someone down and thinking you're better. It's what Tom Wolfe meant when he said that "A cult is a religion with no political power." If your church – and we'll exclude the non-religious forms of cultism for the moment – is rich and powerful, then it's not a cult, don't you know. It's mainstream. How can it be a cult if "everybody's doing it"? But if your group is a minority religion, with beliefs that are a little funky, then you're a cult. That's how it works. It's a way of keeping people in line and feeling uppity about yourself.
But this politicized definition of cultism is not what we're talking about here in these writings. I make people mad by calling their respectable church a cult. But, listen to Christine, this is just how a cultist would react.
Cultism, at its etymological roots, has nothing to do with not being popular, or a lack of lobbying ability, or not drinking the kool-aid. These are contrivances, narrowly construed, that people latch onto in order to make sure that their particular cult is excluded from the definition. Nice try. (See these kinds of cheap debating tricks exposed in my "clear thinking" article.)
Let me make this plain, from another angle. You, me, and your second-cousin – everyone – we're all headed for a new world. This one's being given up for lost. And when you get over there, if you like causing discomfort for yourself, then you can continue in the old cultish ways – be they religious, philosophical, political, ethnic, or any sort of group-delimitation suiting your fancy. As we've seen, they're called "brotherhoods" by the Spirit Guides, and there are thousands of them in the next world, all populated by those seeking for a "strong father figure." You can join any one of them. No one will stop you. Go knock yourself out and, in fear-and-guilt, continue to surrender your autonomy to some "infallible" Dear Leader.
Editor's note: I recently reviewed Father Benson's "Life In The World Unseen," and was reminded of his thoughts on this subject. He reports of those who maintain their old religions on the other side:
Each denomination, of course, holds to its own particular creed and formularies, such as it had on Earth… if the minds of people are stubborn and they are unable really to think for themselves, then do they remain shackled to their narrow religious views, thinking it to be all the truth, until a day of spiritual awakening dawns for them. Then they will see that their slavish adherence to their creeds is holding them back… they do no harm as they are, here, beyond retarding their spiritual progression. Once they realize what they are doing themselves, and take the first step forward, their joy knows no bounds. They will realize the 'time' they have apparently wasted.
Notice the judgment: "slavish adherence," or "unable to think for themselves," or "shackled to their narrow religious views," or "minds" that are "stubborn." Yes, "they do no harm" – except to themselves.
There is one more scene from "Doctor Strange" that might help us: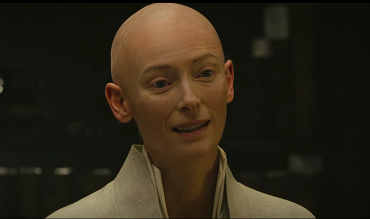 The Ancient One (Tilda Swinton)
"Arrogance and fear still keep you from learning the simplest and most significant lesson of all -- it's not about you."
In these writings, I very frequently reference the "false self," the dysfunctional ego, and therefore you might suspect that an admonition, "It's not about you," would find support from me. Well, certainly, "you" as "egocentric you" or "you, to the exclusion of all others" is to be rejected out of hand. The problem with easy platitudes from a movie script is that sometimes these phrases are presented by those who've not really explored any depth of meaning. "It's not about you," at the surface, seems to hint at something patently unspiritual, with not a friend in the world. However, there's a "good" and a "bad" to this.
Cultish organizations are very quick, either in explicit teaching or by subliminal message, to sell a program of "It's not about you." This is code-language, however, for "You are unworthy. God could never love you. You are defective. You will never reach the high-bar but for the aid offered by the Dear Leader in your friendly neighborhood cultish group." This is how people are controlled; specifically, by a heavy diet of the fear of death, and an existential guilt of innate imperfection.
But Summerland society is not constructed on these perverse precepts. While there is a harmony and an order to all things over there, the interests of the individual are not sacrificed for the group. In a very real way, it is "about you" in the next world.
While each sane and balanced person in Summerland takes part in various charitable service projects, these do not define one's life – because, "it is about you." Each psychologically healthy person in Summerland is engaged in a personal development and educational program, which might include the arts, math, science, space travel, adventure, parties, personal quiet time, friends, and just doing nothing.
One might say that society over there is comprised not of a federation, not of a centralized authority structure, but more like a loose confederation, a voluntary union, often ad hoc in nature, of uniquely talented individuals – as each of us is – who come together at times for the greater good, but, in the main, are dedicated to the proposition of reflecting God's glory on an individual level, of manifesting the one-of-a-kind "inner riches," of simply learning to enjoy one's existence -- which is not that easy -- and is what "made in the image" is all about.
Cults know nothing of this sacred personhood and individualization -- for them, it's all group initiative, with the hierarchy leading the group, of course -- and therefore any form of cultism takes us in exactly the wrong direction, far afield, as per God's individualized plan for each of us.
But wait. There's another supremely sorrowful reason to avoid the cults. In that darkened frame of mind, you will never find, or get to be with, your true mate, your eternal love. Just ask Christine: